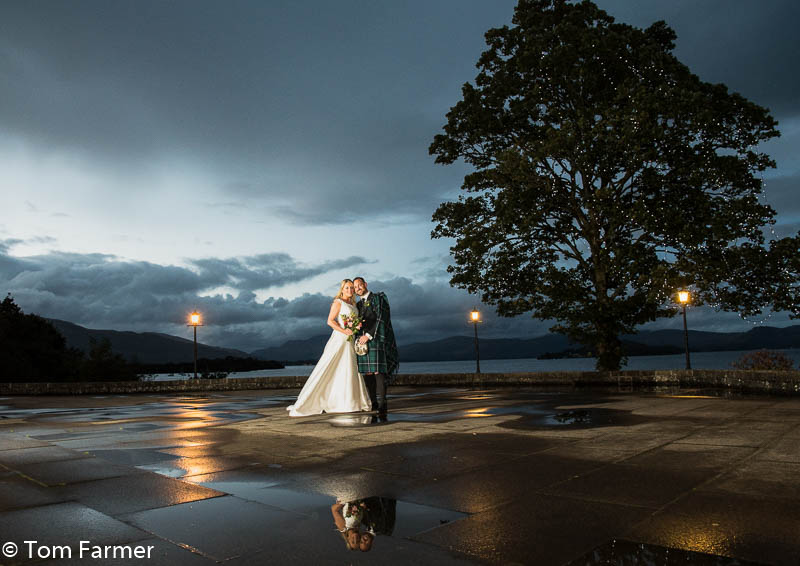 Loch Lomond Wedding
Stunning couple, Perfect Venue, Great Day……..Those Bonnie, Bonnie banks of Loch Lomond.
2016 has seen us at The Cruin on more than one occasion and to be honest we had yet to see it in all it's glory. By that I mean in the sunshine with a little blue sky.
As I drove over on Sunday morning everything was looking just great, a beautiful Autumnal morning with sunshine and the elusive blue sky. I crossed my fingers and hoped for a miracle…I am not one for conversing with the almighty so crossed fingers would just have to do.
Forecast….RAIN, heavy and prolonged….NOT exactly what I was hoping for.
The weather is one element on a wedding day that as photographers we have no control over, so always be prepared to improvise as best you can!
Bridal Prep:
I spent the morning with Kirsty, her mum and her two sisters as they prepared for the wedding everything was going great. hair and make-up were even on schedule. On cue, just after mid-day came the first shower…the sun shone through it and it lasted all of a few minutes.
The Service:
It was time for the wedding ceremony 2pm and yes.. the sun was still shining. Vows taken and all the formalities completed the newly weds were ours for an hour or so before the wedding breakfast.
In that hour or so we experienced sunshine, rain, torrential rain and heavy hail….I thought….give us break! Bang smack in the middle of all the family photographs we had to take shelter in the band stand, then a mad dash indoors. Not put off we carried on indoors and were ahead of schedule giving Kirsty & Alan some time to mingle with their families and friends before the meal.
As the rain continued to fall, and the light starting to fade I just hoped for a break in the weather….AND would you believe it, just as the speeches concluded it was starting to dry up. I had an eye on a puddle….as you do…and with light going fast Kirsty & Alan came out for a few more photographs. I think it was worth it…there was even a nice  reflection in that puddle I had my eye on.
Thank you to Kirsty and Alan. A fabulous day and a privilege to cover.
A few images from the day:
The Cruin.
Thanks also to all the friendly staff at The Cruin.