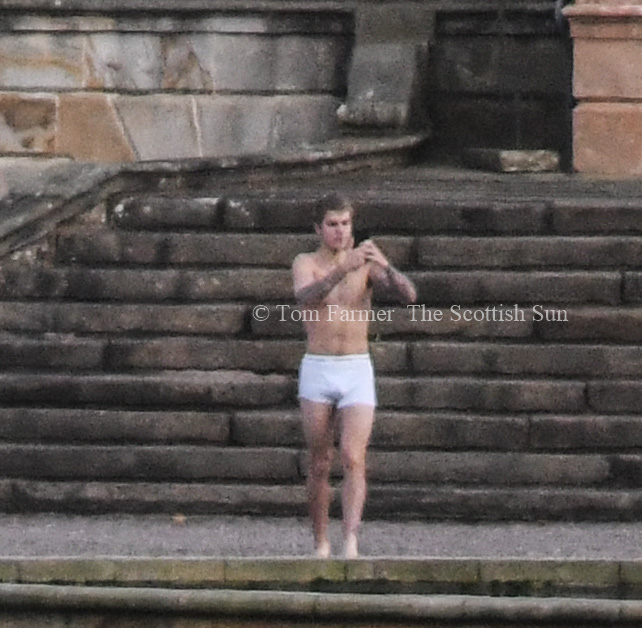 Man in pants.
Canadian pop star Justin Bieber (man in pants) takes over stunning Kinross House for the duration of his stay in Scotland as he plays three gigs at the Hydro in Glasgow.
Now, as these jobs go it can often be a pretty long waiting game and sometimes a good game of hide & seek with the security team. All good fun, especially when it all comes together.
Day one and I posted myself on a side gate where I could see a few of the private people carriers that were to shuttle him to and from the Hydro. Mid afternoon and I spotted him taking a stroll with a mystery blonde and a little dog. First set of images in the bag.
Time was getting on and I knew he had to leave at some point very soon to make his way to Glasgow, I chose to stay put and wait it out…. 'The Bieber' appeared with one of his security team and could clearly see me taking more pictures.
I could hardly believe what happened next. Justin Bieber took the wheel of the golf buggy and made his way over to me.  There was me stood on one side of an enormous iron gate and 'The Bieber' chatting to me from the other side. Very polite and friendly and absolutely no aggression
in his voice. We chatted for a few minutes (as I fired off a couple of 'hail Mary's' from the hip.) We shook hands and I agreed to call it a day.
Day 2
Back to my post at the gate and a good morning from security patrolling the vast estate. A short while later and my line of sight blocked by large people carrier parked broadside to the gate. Time for plan B. Always have a plan B!
Main gate and sit out the rest of the day with hoards of 'Bliebers' I understand this is the name given to his adoring following of fans.
Without any warning the main door of the impressive stately home opened and out came a man in pants  It was Justin Bieber in just his CK's…he proceeded down the main steps and wandered around the front of the house taking selfies before the biting cold got the better of him and he bolted back inside. Not a bad day two. Job Done!